My very first kit. As I've mentioned I have been taking lessons to learn to make scrap stuff. Well I figured along the way I might as well create a kit! I got my inspiration for this from a photo of the rainforest. So that's where the name came from...lol I hope that you all like it! I sure had fun making it! This kit is tagger size, I create everything full size for digital scrapping myself, but I am unable to get files that size uploaded at this time.
This kit has 46 pieces. Loads of elements, ribbons, wraps, buttons, brads, bows, flowers, stickers, frames, embellisments, charms, tags, an alpha, & 7 papers. And I'm sure I left something out..lol
Most of the elements in the preview have been resized by 40-50%.
If you download please leave me a comment either here or on 4Shared!
Please read my TOU included in the zip.
Personal Use Only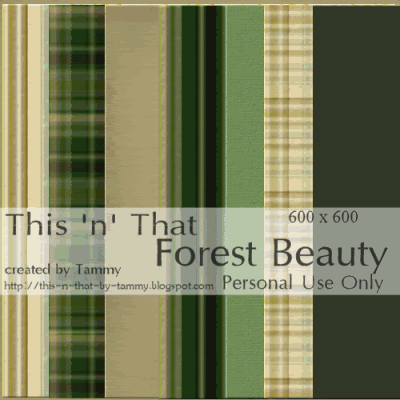 Download via 4shared
HERE
.